Like other branches of oriental knowledge, Ayurveda also has its deep roots in Kerala. Advent of Buddhism (AD 5-6 cent.) in this land contributed much to the spread of classical Ayurveda. Another important fact was that caste was no a bar in the study and practice of Ayurveda in ancient Kerala. So there were various traditions or Gurushishya parambara, transferring, updating and perfecting the knowledge and its application through generations. Knowledge of this science of life was imparted through Gurukula system of education. But in the modern age, more institutionalised, systematic way of learning became a necessity. This need was felt by the ruler's of erstwhile, states in Kerala in the pre independent period itself.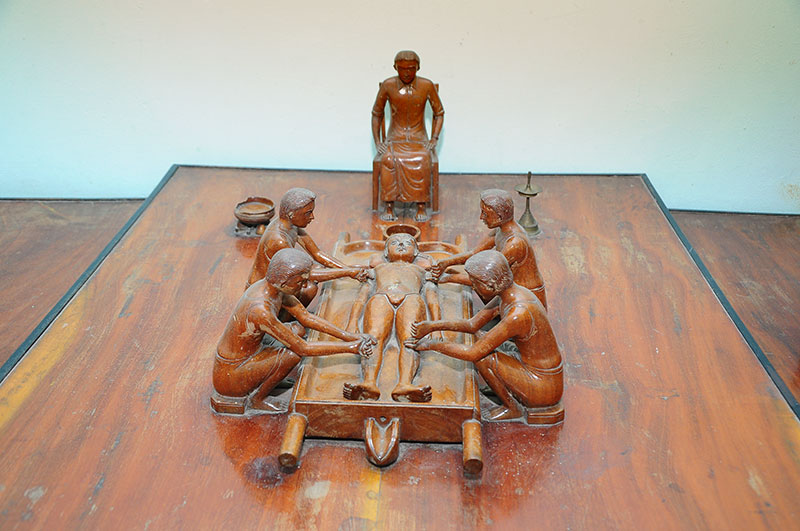 First ever study centre for Ayurveda in India, under the Government not in Gurukula model was established at Thiruvananthapuram in 1889 A.D. But in Cochin State, formal Ayurvedic education was started only in 1926, in the Sanskrit college at Tripunithura. This college was established in 1914 by the then King Rama Varma Raja to commemorate his sixtieth birthday. Many members of the Royal family were scholars in Ayurveda and this led to the keen interest in the propagation and education of Ayurveda. In 1936, separate courses for Ayurveda, Vedanta, Nyaya etc., were introduced. Ayurveda Bhushanam was the title given those who passed the final examinations. Trikkovil Achyuta Varier, the Principal of Sanskrit College in 1956 had made so many efforts for delinking the Ayurvedic department from Sanskrit college due to the limitations of Ayurvedic education at Sanskrit college. Finally the department has been separated and Ayurveda College was established. The last king of Cochin, Parikshith Ramavarma Thampuran allowed the college be functioned at the Royal Guest House. The new course D.A.M (Diploma in Ayurvedic Medicine) was introduced and had an improved and unified syllabus through out Kerala.
In 1960-61 a hospital at Tripunithura, under the Indigenous Medicine Department was transferred to Ayurveda College for clinical training of students. In 1964 a land area of more than 11 acres was acquired for the college at Puthiyakavu and the foundation store was laid in 1968 by the then Health Minister Sri. B.Wellingdon. The new college building was opened in 1973 April 9th by the former President of India, Sri. V.V Giri and the college shifted to the new Campus. Pharmacy and Men's hostel was also shifted from Royal Guest House to the new college campus subsequently.
Degree course in Ayurveda (B A M) was introduced in 1971, replacing diploma course. The college got affiliated to the Kerala University. An improved national Syllabus came in 1979 by name BAMS (Ayurvedacharya). Since 1983, college is affiliated to the Mahatma Gandhi University, Kottayam. A new two storeyed hospital building was opened in 1982 in the college campus by the then Health Minister Sri.K.G.R.Kartha. It accommodates Prasootitantra, Koumarabritya, Salyatantra and Salakyatantra wards. There is also an anorectal clinic with Ksharasootra facilities. Kayachikitsa, Rogavijnana and Agadatantra wards at the Hospital in Tripunitura. 13 departments came into existence in 1998. A new six storied building for 350 bedded hospital was dedicated to the Nation in a magnificent function on 17th Dec.2005. 14th Department, Panchakarma was established in 2008.
Apart from BAMS Course, Certificate course of 1 year training for Nursing, Pharmacist and Masseur are also conducted, but not on a regular basis. National Service Scheme unit (Unit No.18-M.G.university) is also functioning in the college.
MILE STONES IN HISTORY
1926: Started as a Department in the Sanskrit College, Tripunithura, established by Rajashi RamaVarma, then King of Cochin. Course conducted was Sastrabhushanam.
1959: Establishment of the college as a separate institute at Royal Guest House, Hill Palace. Introduction of D.A.M. Course.
1960: Hospital at East Fort Gate Tripunithura Jn. was handed over to the college for clinical training of the students.
1971: Degree course in Ayurveda (B.A.M.) was introduced under Kerala University.
1973: Shifted to Puthiyakavu Campus. Introduction of B.A.M. Degree Course. Affiliation to Kerala University. Hosted national ayurveda conference, a mega event of the year.
1974: Establishment of Ayurveda College Pharmacy in the campus.
1977: BAMS course introduced.
1978: Ladies hostel was constructed in the campus.
1982: New hospital building was commissioned in the Puthiyakavu campus.
1983: College gets affiliated to Mahathma Gandhi University Kottyam.
1985: Men's hostel was shifted to the campus from Hill Palace.
1993: Staff Quarters were constructed in the campus.
1994: Ksharasutra unit started functioning in the hospital.
2002: X-ray unit becomes functional.
2005: President of India Dr. A.P.J. Adbulkalam dedicates the new hospital complex to the nation.
2008: Panchakarma Department was established.
TRIPUNITHURA – THE CAPITAL OF COCHIN 'EMPIRE'
Tripunithura is a town in Ernakulam District of Central Kerala in South India. It is 9 Kilometers away in the South East of Cochin city. Chitrapuzha, the river forms the natural boundary on the three sides of Tripunithura which has a population of around 70,000. The east of the town is an industrial area with Cochin refineries, Fertilizers and Chemicals Travancore Limited etc.
The history of Tripunithura dates back to a much earlier period. Megasthanes mentioned it as tripona and Ptolemy as triponsere. They mention Tripunithrua as an important port in the Arabian Sea. Some say that the name Tripunithura was originated from Purnavedapuri as there were scholars in all the three Vedas residing here. Thura means port and this was a town with a port in the Purni River according to some other historians. The flood in river of Periyar in A.D. 1314 led to the decline of the natural port at Cranganore and new river mouth was opened at Cochin. This in fact, led to the growth of Cochin.
This area was a part of Cochin Empire, and the ruling dynasty had a long tradition extending over a period of twelve centuries. In about 1405 A.D., as a precautionary measure against the aggressive threat of conquest of the Zamorins of Calicut, the Cochin Royal family shifted their original capital from Ponnani in Malappuram to Cochin. In fact, Cochin Kings became politically powerful only by 16th century. Association with the Portugal, Dutch and British led to many changes in the socio cultural fields of Cochin during various periods in the history. Details of 44 kings since this period are available in the history.
King Rama Varma Raja (1895-1914) was the efficient ruler who made a deep impression of his exceptional ability in the administrative reforms. The railway line from Shornur to Cochin became operational during his time. He renewed the judiciary system forming a Chief court with one Chief Justice and two Judges. It was to commemorate his 60th birthday a Sanskrit College was established at Tripunithura.